"In her insightful &
humorous way,
Farnoosh gives fear
a much-needed rebrand.
As someone who's no
stranger to anxiety,
this book is a
game-changer."
NYT Bestselling Author,
Live Wire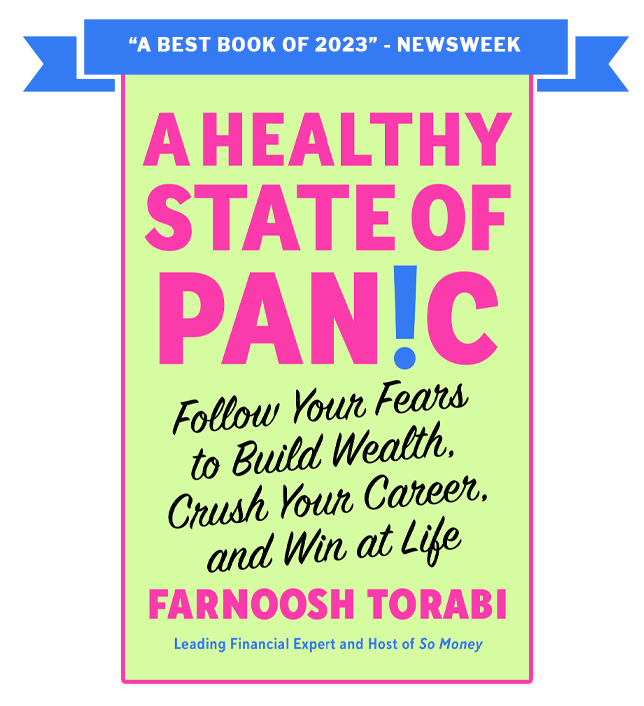 "Captivating, funny,
& unapologetic.
Farnoosh is like the
best friend you
wish you could talk
to when this f**d up
world keeps you up
at night."
COMEDIAN, actress,
& musician
UPCOMING BOOK LAUNCH EVENTS
FARNOOSH TORABI, leading financial expert
and creator of the popular podcast So Money,
illustrates how fear can be your superpower in this
heart-felt and clever guide to maximizing your
success to live richer and happier.
A Healthy State of Panic is your permission to
feel unapologetically scared.
For generations, fear has been the victim of some unfortunate PR. We're told it's a barrier to living our best life. If we cave and let fear drive our decisions, brace yourself. You're headed for dead ends, collisions and hellish embarrassments.
But being a scared young girl and today, a continuously frightened woman, Farnoosh has arrived at a far different understanding of fear: It's not out to get you. It wants a healthy relationship with you so you can reach your greatest potential with a net at your back.
In A Healthy State of Panic, learn how following fear can be a chance towards safety, satisfaction and all kinds of success.
With clear-eyed advice and an engaging, heartfelt voice, Farnoosh lays out the 9 most common fears that hold us back—both personally and in our financial decisions: rejection, loneliness, FOMO, exposure, failure, money, uncertainty, endings and losing our freedom. And how we can mine fear for wisdom to help us achieve richer, more meaningful lives.
Farnoosh will teach us how to listen to and leverage fear to…
Identify what you're really longing for.
Set healthy, self-affirming boundaries.
Draw more comedy and connection in life.
Read the room before exposing your truth.
Rewrite financial stories that are holding you back.
Prepare for worst-case what ifs.
Spot the wisdom in red flags.
Reveal the right move when life goes awry.
Unveil the beauty in loss and regret.
Protect our freedoms & leave a legacy.
Discover how to become more self-reliant and financially resilient, how to invite more calm and control into your daily routine, and how to stop hiding from fear and instead invite it into your living room, where it can serve you in building your best life.
"Farnoosh unveils the surprising truths about why we should be more patient with fear and honor its many unsung gifts. I'll never experience fear the same way again — and thankfully so."
"Captivating, funny, and unapologetic. Farnoosh is like the best friend you wish you could talk to when this f**d up world keeps you up at night."
"Whether you're eager to navigate life with a better understanding of fear or want to stop feeling bad for being afraid, Farnoosh delivers in this wise, witty and illustrative guide."
"Farnoosh is the kind of friend we all need: wise, candid, and willing to teach us what she's learned in a non-annoying, and in fact, wildly helpful way. In A Healthy State of Panic, Farnoosh has done the remarkable. With candor and illustrative story-telling she's somehow alchemized fear into self-discovery and we are all better for it."
"In her insightful and humorous way, Farnoosh gives fear a much-needed rebrand. As someone who's no stranger to anxiety, this book is a game-changer. Who knew fear could be this entertaining?"
"Whether you're grappling with FOMO in your career or deciding how to navigate and afford life's shitstorms, Farnoosh has been there, and done that. In A Healthy State of Panic, she pairs her professional expertise with personal tales of rejection, loneliness, and uncertainty to give us the levity, wisdom, and advice we need."
"Finally, a book that celebrates the self-doubt, uncertainty, and hyphenated reality of being raised as an immigrant. Who knew that going out of your way to please people could become a superpower?"
Farnoosh Torabi is an Iranian-American journalist and one of the country's leading and most trusted personal finance experts. For more than 20 years, she's dedicated her career to helping people become financially empowered and lead richer lives. She's written multiple books, hosted a CNBC program and served as the resident money columnist for O,The Oprah Magazine to bring her advice and insights to the world. Today she hosts the long-running, Webby-winning podcast So Money, which has earned over 30 million downloads.
But never mind all that -- Drew Barrymore now follows her on Instagram.